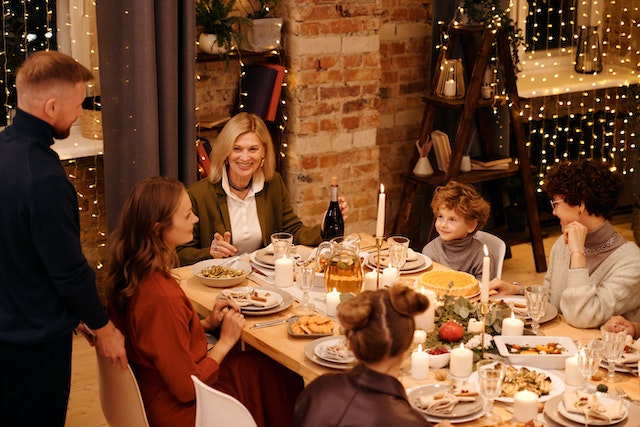 Regardless of which holiday(s) you celebrate, seasonal festivities often have one thing in common: they can be exhausting. And if you're living with chronic pain, all the extra activities and commitments can be especially overwhelming — and painful.
If you're living with a chronic pain condition, you already know how difficult it can be just to get through regular everyday tasks. Piling on holiday "stuff" like dinners, parties and an increase in visitors can really compound any pain and anxiety you may already be feeling.
If this sounds like what you're experiencing during this season, read these 7 helpful tips for more enjoyable holidays, with more fun and less pain.
Don't ProcrastinateAt this time of year, there's often way too much to do, in far too little time. It's easy to over-exert yourself trying to keep up, and it can cause unnecessary stress that may amplify any pain symptoms you may have.

Plan your activities well in advance of the holidays, (even if you think you'll have "plenty of time",) so that you can pace yourself and enjoy your festivities in a more relaxed, leisurely fashion.
Don't Overdo ItIt may be tempting to go "all-out" for the holidays, i.e. hosting extravagant parties, hanging elaborate decorations, or planning memorable family gatherings. But if you suffer with chronic pain, consider letting go of at least some of these activities if possible, or at least find someone to help manage them with you.
Don't Be Afraid to Ask for HelpIf you have a friend or family member who is willing to help you with your holiday events, don't hesitate to ask them. Delegating some of your activities with others will help to reduce your stress, (as well as your pain symptoms,) and give you a great opportunity to spend time making holiday memories with those you care about.
Don't Make More 'Work' for Yourself Holidays are special, and we often want to use the finest dinnerware and fanciest décor to celebrate them. But a little compromise can go a long way when it comes to impact of seasonal activities on your pain condition.

Consider lowering the bar just a bit by using an artificial, pre-lit Christmas tree, for example, or hosting feasts with decorative paper or plastic dinnerware. It's a worthwhile trade-off that allows for a beautiful holiday embellishments while reducing your workload in the process.
Don't Forget to Take Care of YOU If you want your holidays to be truly enjoyable, it's critical that you make time for self-care. The better you feel, the more fully you can participate in those activities you love.

Try to find ways to take care of YOU; drink lots of water, get plenty of sleep, partake in holiday treats in moderation, and most importantly, make time to rest and relax when possible, to recharge your energy between seasonal events.
Don't Let The Season Get You DownWhile it can sometimes seem difficult when you're suffering from persistent pain symptoms, it's important to try your best to stay positive by doing more of the things you enjoy when possible, and with those people who bring you the most happiness.

Avoid isolating yourself from the festivities, even if you can't fully participate in all of them. Your state of mind and emotional disposition will play a large part in how you experience pain.
Don't Forget to Follow Your Chiropractor's RecommendationsIf you're in the care of a Chiropractic Specialist, remember to stay on schedule with any prescribed medications and/or treatment appointments. Skipping necessary chiropractic care can diminish your treatment progress and cause pain symptoms to increase.

Coastal Chiropractic Can Help to Make Your Holidays Bright — with Less Pain
If you live in the Largo / Clearwater areas in Florida, consult with Dr. Marc J. Rogers, a certified expert in chiropractic care. Dr. Marc will work with you to address all of your pain symptoms and concerns, and make recommendations based on your individual situation so you can enjoy the holiday season with more comfort and ease.
To set up a time to consult with Dr. Rogers, call (727) 581-2774 or use our convenient electronic form to schedule your appointment online.