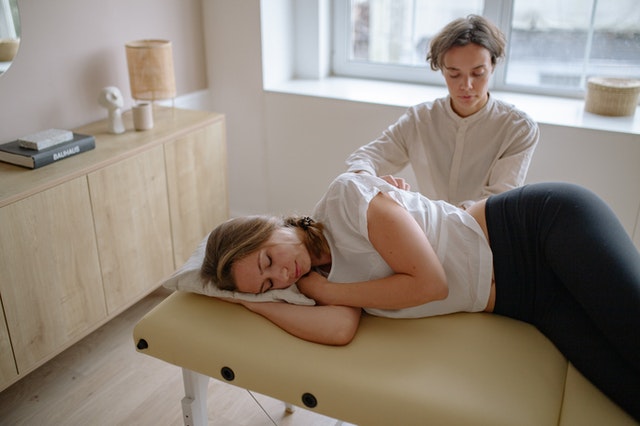 If you've ever considered consulting with a chiropractor but hesitated due to opinions you may have heard about chiropractic care, you're not alone.
Some people are reluctant to seek out a chiropractic specialist, in large part due to a fear of the unknown.
But once the common myths have been dispelled, those suffering with chronic or acute pain have found that not only does a chiropractor provide proven, effective options for relief, but many patients say it's actually the best decision they've ever made.
If you want to separate fact from fiction, read these 5 common myths about chiropractic care. (Spoiler alert: they're simply not true!)
1. Chiropractors aren't real doctors.


FACT: Chiropractors are REAL doctors who must complete a 4-year doctoral program in a nationally accredited graduate school and pass a board exam to earn their Doctor of Chiropractic degree. They are extensively trained to become experts on health, science and the human body.
Additionally, chiropractors are required to keep their license up to date through continued learning and training programs.
2. Once you visit a chiropractor, you have to keep going for the rest of your life.


FACT: Patient care plans may require more or fewer chiropractic visits, depending on each individual situation and condition.
A qualified chiropractor will consult with you to assess your needs based on several factors, including lifestyle and physical condition, and advise you as to how many visits may be required before you begin any recommended treatment regimen.
3. Chiropractic care is painful.


FACT: While many patients may describe brief feelings of discomfort during chiropractic sessions, or minor soreness afterward, there is no actual pain; chiropractors are trained to know when the body's physical condition calls for more or less intensity in treatment protocols.
To the contrary, patients most often experience an immediate improvement in their pain and range of movement after attending a chiropractic session.
4. Chiropractic care is harmful.


FACT: While all types of medical care may have some associated risks, chiropractic care is one of the safest forms of pain management available.
This is especially true when compared to other forms of treatment; unlike surgery, no general anesthesia or invasive procedures are required, and unlike pain medications, there is no risk for addiction. It is widely considered to be a medical specialty that carries very low risk while providing a high rate of relief and patient satisfaction.
5. Chiropractic care is only for back pain / conditions.


FACT: It is true that many patients seek chiropractic care for relief from back or neck pain. However, this type of care is also well-known for improving the immune system and nervous system functions, and facilitating a feeling of overall wellbeing, in addition to treating many specific conditions such as:
Wrist, elbow, leg, knee & foot pain
Allergies / breathing issues
Digestive problems
Muscle pain
High blood pressure
Headaches
Nausea / dizziness
Fatigue
Anxiety
Sleep disorders
Still Have Questions About Chiropractic Care?
Consult with Dr. Marc J. Rogers at Coastal Chiropractic in Largo, Florida. Dr. Rogers is a certified expert in chiropractic care who will take the time to address all your concerns and work together with you to determine the most effective and beneficial options for treating your painful condition(s).
To set up a time to consult with Dr. Rogers, call (727) 581-2774 or use our convenient electronic form to schedule your appointment online.